THE PERFECT HIDEOUT FOR YOUR FELINE FRIEND
Cats love their hiding holes, it's where they rest, groom and sleep. We've created TVS Cat Cave so they can have a fluffy cat place, just for themselves.
With softness all around it's easy to relax and unwind if you are a small animal. TVS Cat Cave can accommodate small to mid-sized animals in it to bring your pet maximum comfort.
If you want your cat to love you even more choose them a dome that they can always feel safe in! TVS Cat Cave is the hottest feline real estate and the best choice for your pet pal!
WHY TVS CAT CAVE IS FOR YOU?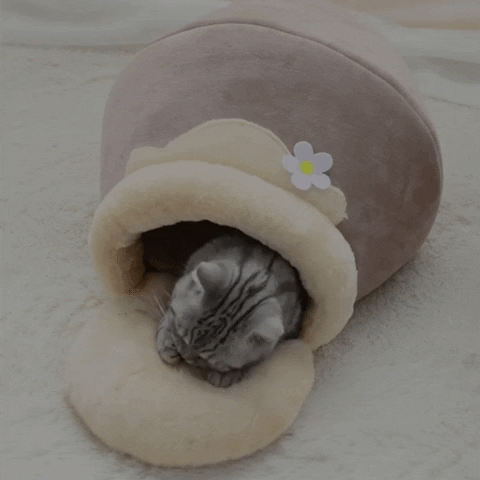 The coziest hideout- Soft, cozy and spacious, TVS Cat Cave is the perfect place to play, rest, or simply get away from the pesky humans.
Stress-free zone- If your feline friend is easily scared, having a cozy dome to retreat to will relieve all the stress for it to feel safe.
Every mammal loves it- If you have a small animal then TVS Cat Cave is the right home for it! Every pet pal will fall in love with it.
TVS Cat Cave is the ultimate choice- When there are no quiet places in the house it's a real treat to have your own little spot to fall back to.
Suited for: Cat within 2.5 kg
Material: Fiber
Color: Grey / Green / Brown
Size: 40x30x18cm
SHIPPED WITHIN 1-3 BUSINESS DAYS WITH USPS